Click any image to enlarge.
Key: C
Length: 70″
Bell: 5.75″
Mouthpiece: Wenge, Beli, Walnut, African Mahogany
Wall Thickness: Medium
Backpressure: strong
This is one tough stalk. It actually took me two separate occasions to this location to return home with it to remove all the stubborn tough leaves.  Was an exhausting yet rewarding experience.  This toughness translates well into the character of this didge.  I love the deep mesmerizing drone and the long neck and mouthpiece allow for such easy overtones that mix beautifully with the C note. Amazing vocal abilities that love to  travel throughout the length of this stalk. As you can imagine with the neck shape it has great backpressure and would make learning circular breathing that much easier. Advanced players will be in awe of all the sounds and abilities hidden deep in this stalk. An incredibly beautiful and powerful Old Soul!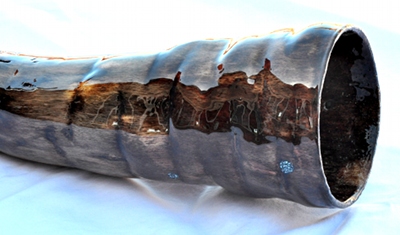 Sold, Thanks Vicki:) in Livingston, MT