Click any image to enlarge.
Key: E
Length: 56″
Bell: 6″
Mouthpiece: Purpleheart, Bubinga
Back pressure: Strong
Skill level: Any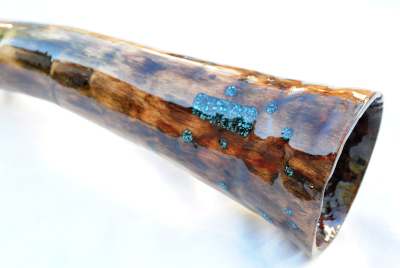 This is such a unique and incredible didge! You can't tell from the photos very well how amazing the curve that it has is. You it is almost snake like when you look down the mouthpiece to the impressive bell. This one had a ton of bug activity as you can tell from the big turquoise inlays. I just love how the turquoise accents the varied agave grain and adds so much character to a stalk already brimming with it. This plays with so little effort and is so explosive. It loves to play fast and has a ton of percussion abilities but also really excels at ambient soothing soundscapes. This one has amazing overtones that are so easy to transition to and are crystal clear and take so little breath to sustain. This would be incredible for any style and any situation and if I didn't already have two E's I would be thinking of keeping it. Can't wait to see who the lucky person is to get this one!
Sold, thanks Anthony! in Phoenix, AZ