Click any image to enlarge.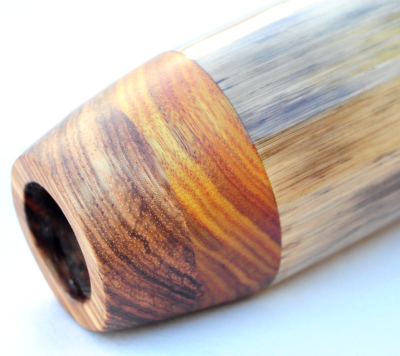 Key: E
Length: 55″
Bell: 6″
Mouthpiece: Beli, Canary
Back pressure: Strong
Skill level: Any
My dog Bean just loves didgeridoo and certain ones she will always come over and hang out nearby for a listen. She seems to love this one and I do as well. This one has such a nice round bass tone to the drone with its bigger bore and some incredible vocal ability and volume that explode out that large bell. This one is just as comfortable playing ambient soundscapes as it is incredibly fast rhythms. It has a really soothing drone and registered in E at 432hz. Can fluctuate obviously with climate but just has a healing energy to it. I love the wood tones in this one and the bell is unique with such a light coloration with some nice contrasting darker lines. This would be such a great fit for every skill level and style!
Sold, thanks Rob!