Click any image to enlarge.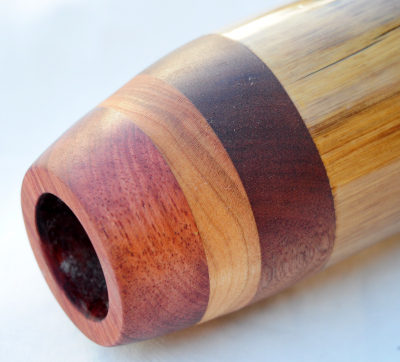 Key: C#
Length: 70″
Bell: 8.75″
Mouthpiece: Bubinga, Cherry, Sapele
Back pressure: Very strong
Skill level: Any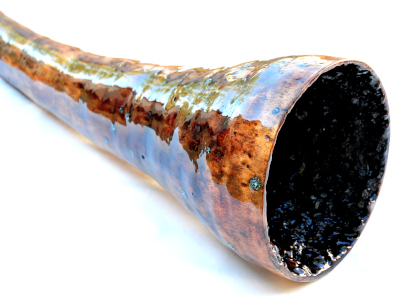 As you might have read from the description of #358 this is another incredibly unique and powerful didge that grew right along side it for many years. This is an absolute monster of a didge and playing these big belled didges is hard to put into words just how fun it is. This one is just such an unbelievable form and this old stalk has some amazing wood tones and dense wood that explodes to almost a 9″ bell. As you might see from the photos sometimes these huge agaves form a lot of texture, from I am assuming, termites and other desert insects. There are a ton of caverns and texture on the inside of the bell. It just adds so much character and makes the sound waves travel and bounce around in different ways. This one isn't as strong at toots as it is easy to reach the first overtone but the rest are harder with the enormous bell. This is for someone who just loves exploring the powerful key of C# and the healing tones this one projects. The drone has such a nice balance with awesome bass tones. The vocals are the best on these monster agaves and if you like to sing along with the drone this one is perfect. It has amazing response and back pressure and would be perfect for any skill level. And for the performer this one would definitely draw a crowd both on the stage or street. I have had so much fun working on this one and seeing it come to life and excited to pass it on to some lucky player out there!

Sold, thanks again Letty and Owen! in APO, AE