Click any image to enlarge.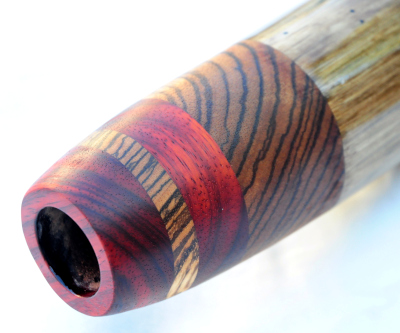 Key: A#
Length: 74.5″
Bell: 6″
Mouthpiece: Padauk, Zebrawood
Back pressure: Very strong
Skill level: Intermediate to advanced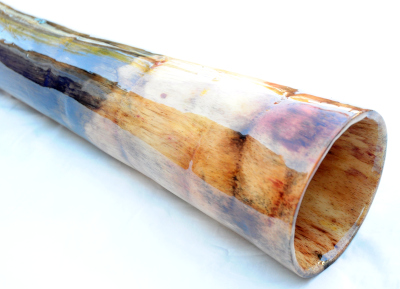 I can't believe I have been making agave didges for 21 years now. In all these years they never cease to amaze me with the beauty of the wood and the quality of sound they can produce. I can honestly say I enjoy making them more today than when I started. I love when I find stalks like this one that has colors that are hard to believe are created by years living in the desert. I don't know how it happens other than magic. A young agave stalk will only usually have whites with very little variation but these old ones can have so much variation and would put its beauty up against any wood in the world. This one plays even more beautifully than it looks. It is an absolute powerhouse that shakes my whole jam room and my soul when I play it. A# is such a mesmerizing key and one that has always been one of the most popular for good reason. This one would be amazing for those that love to experiment with ambient sounds. It is so responsive and found myself experimenting like I hadn't done for a while and it gave me so many ideas. The drone is so rich and full of bass and so many complex tones.  The back pressure is so great and takes so little breath to create an incredible amount of volume.With its shape it can play so strong rhythmically and strong clear overtones.  It is hard to tell from the photos but there are also over 100 inlays as these big agaves attract so many birds, bees, and insects using it as home and to feed. This along with the colors throughout the stalk make this such a unique one of a kind piece of art! I am excited to see where it ends up!
Sold, thanks Simon! in Fairview, NC