Click any image to enlarge.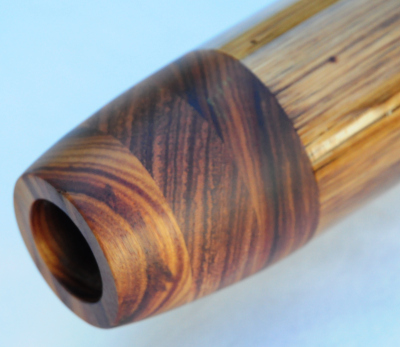 Key: A#
Length: 70″
Bell: 3.75″
Mouthpiece: Canary, Beli
Back pressure: Very strong
Skill level: Intermediate to advanced
This is one incredible didge! I just love finding these really thick old soul agaves. An ancient stalk that took over a month to work on. This one has so much power but plays with so little effort. This is such a mesmerizing didge to play and already did a recording with it for a friend who is having trouble sleeping at the moment. The calming effect is immediate and would so great for someone using didge for sound healing or meditation and relaxation during these stressful times. It has so many strengths and just such a balanced didge. The drone has a perfect amount of bass to it and the vocals are so strong over the deep drone and the overtones so easy to transition to and sustain. This takes so little breath and makes circular breathing a cinch. These older agaves have such beautiful grain as many turn darker and have more pigments which accent the turquoise inlays so well. In addition just love all the grain in the mouthpiece and adds such a nice accent to the stalk. An amazing didge that I have had so much fun playing over the past month while working on it and can't wait for it to find a great new home!

Sold, thanks Michelle and Ed! In Portal, AZ