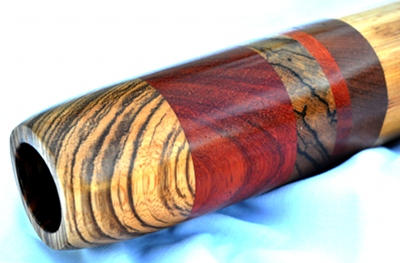 Key: D#
Length: 66.5″
Mouth on agave: 2.5″
Bell: 7.9″
Mouthpiece: Zebrawood, Padauk, Sapele
Wall Thickness: Medium
Backpressure: Strong
Weight: 3.2lbs
This is a beautiful older stalk that has a tremendous bell just a hair under 8″. Amazing shape and fast taper that sits perfectly on the floor when you play. The longer neck allows for easier overtones and the backpressure is nice and strong requiring hardly any breath to get it going. The vocals are clear and loud and really project out of its big bell. Being an older stalk there were many bug holes which I have inlaid turquoise throughout for added beauty. With that and the striking mouthpiece this is not only a great player but a beautiful piece of art as well.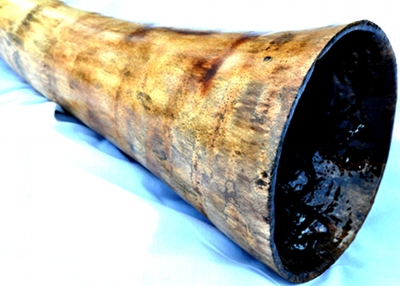 Sold, thanks Michael!  in Rohnert Park, CA