Click any image to enlarge.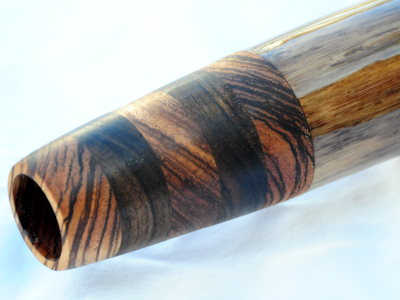 Key: C
Length: 71″
Bell: 6″
Mouthpiece: Zebra, Shedua, Beli
Back pressure: Very Strong
Wall thickness: Medium
Skill level: Beginner to intermediate
This one is an absolute rhythm machine! It has such amazing response and so many strengths. With its great size and length this one is so fun to travel sounds and has tremendous percussive abilities. The overtones are so bright and easy to reach and the vocals are magnificent. A perfect amount of back pressure on this one  which requires barely any breath. It does everything well and plays like a dream. There is also quite a bit of turquoise inlaid throughout that adds so much to its beautiful shape and wood grain. In one area there is a huge inlay where a bird fed on some of the grubs living inside the flower. I also love the combination of the woods in the mouthpiece which I thought fit the stalk perfectly.  If you are just starting out or the most experienced player this one is sure to inspire so many new ideas!
Sold, Thanks Charles! in Gainesville, FL