Key: B
Length: 68″
Bell: 3.75″
Mouthpiece: Padauk, Canary
Back pressure: Very strong
Wall thickness: Thick
I love this didge! I collected this on my last day of harvesting this spring. The skin on it had such  beautiful red tones that were highlighted by the rare spring rain. I chose a beautiful piece of Padauk for the mouthpiece to reflect the color it once had. This is an ancient agave that must have survived three years through all the heat and rain and cold. I love working on these for all the character they have. You will find turquoise inlaid throughout the numerous bug holes and  the sealed cracks show the wisdom and harshness of time in the desert. This one is so powerful and has something about it that just mesmerizes from the start. Such nice bass tones and vocal abilities. The overtones are a piece of cake with its thick walls and bore. If you are using didges for meditation and sound healing this is perfect. It registered in B at 432 here which can fluctuate with temp and humidity but will always be close to that tuning. It is a tuning that a lot of sound healers use and has such a great feel to it. B has always been a note that has really resonated with me and love how it calms the system. So excited to see where this one ends up!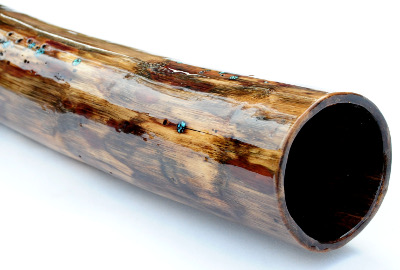 Sold, thanks Tony! in Pagosa Springs, CO