Click any image to enlarge.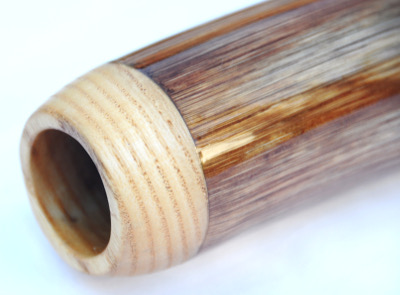 Key: E
Length: 51″
Bell: 3.75″
Mouthpiece: Ash
Wall thickness: Medium
Back pressure: Strong
This one has some really amazing contrast in the stalk with the whites and darks throughout. The beautiful wood has some nice accents of turquoise inlaid throughout that really pop with the varied wood grain. It can play with so much speed with its shape and has great volume for its size. These shorter stalks are so explosive and you can also hear them really well as the player being closer to the bell.  Great vocals and overtones and plays great at slower ambient speeds.  If you are looking to add some speed to your playing and love ambient styles as well this would be a great one for you! It has been really fun playing this one while working on it and know it will bring lots of joy to its new home.
Sold, Thanks again Hiro! in Kuki, Japan