Click any image to enlarge.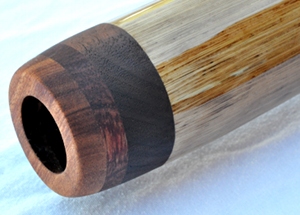 Key D#
Length: 63.5″
Mouth on Agave: 2.25″
Bell: 6.75″
Mouthpiece: Walnut, Bubinga, Mahogany- 1.2″
Wall thickness: Medium
Backpressure: Strong
didge47d
I have been traveling around with this didge for some time. I made it many years ago when I was still using beeswax. Recently added the wood mouthpiece and another coat of resin. A nice solid Old Soul with such an easy full drone with great balance.Easy to reach overtones and vocals really project with that nice bell. A really solid didge!


Sold, Thanks Tim! in Roseville, MN