Click any image to enlarge.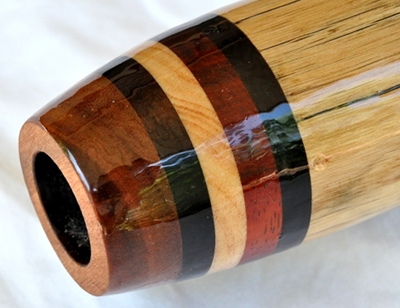 Key: D#
Length: 63″
Mouth on Agave: 2.5″
Bell: 8.25″
Mouthpiece: Mahogany, Walnut, Ash, Padauk- 1.2″
Backpressure: Strong
Wall Thickness: Medium
Weight: 3.6 lbs
Yes you read the dimensions correctly. This has a huge 8 1/4″ bell with a very fast taper. The more I play this one the more I like it. Tons of volume and the vocals really pop. The taper allows for some really nice clear overtones that really project. I guess I could say everything projects well out of this one. Nice old wood also and in my Old Soul style I leave the cracks exposed to show its age and wisdom. This is a real keeper and has tons of stories to tell.
Sold, Thanks Scott! in Los Alamos, NM