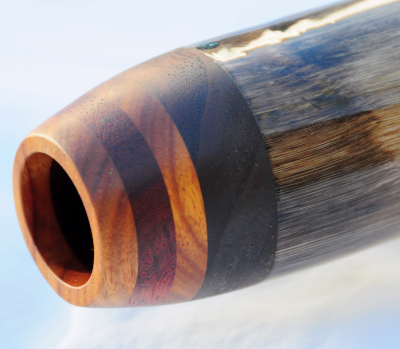 Key: A
Length: 77″
Bell: 4.25″
Mouthpiece: Walnut, Canary, Padauk
Back pressure: Very strong
Skill level: Intermediate to advanced
I think A is one of the most mesmerizing of all the keys. They are rare to find as they have to have such great length. I have only made 6 in all the years of making them and they have all gone fast on here. This one has such a nice feel to the drone with lots of bass tones and has incredible overtone and vocal abilities. If you really enjoy the meditative part of playing this would be such a great didge as it instantly puts you in such a calm space. Despite its size this one only weighs around 3-4lbs so would be great for sound healing as you can still move around with it and projects a ton of volume being a thinner walled stalk. If you haven't played an A ever this would be a real treat and take you to another level and place while playing.
Sold, Thanks again Jeff! In New Rochelle, NY