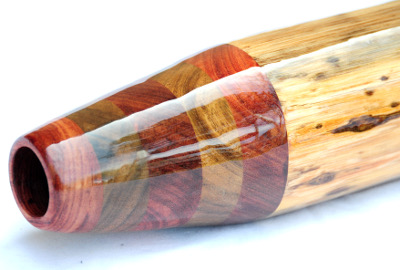 Key: B
Length: 63″
Bell: 4.5″
Mouthpiece :Bubinga, Shedua
Backpressure: Medium
Wall thickness: Medium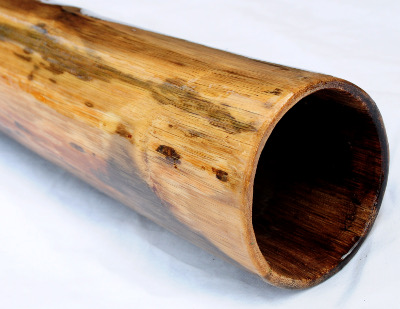 This huge bore didgeridoo in B has such a beautiful bass tone drone. It instantly mesmerizes the player and would be great for a sound healer or for meditative style of playing. With such a deep note the open bore also allows for some really interesting rhythmic style of playing. Really easy to play fast on this one and is really great to be able to play with such tempo in a deeper key. The vocals are so crisp and really project well. This wood has so much resonance to it and this was an enormous flower at over 30 feet tall. Was quite the specimen. I have never made one with this big a bore so really had to carve a long mouthpiece of two of my favorite woods to taper to the opening. I will be making more as I just love the sound and how it makes me feel as a player. If you haven't explored these deeper notes you are in for a treat!

Sold, Thanks Alexander! in Treffen, Austria