Click any image to enlarge.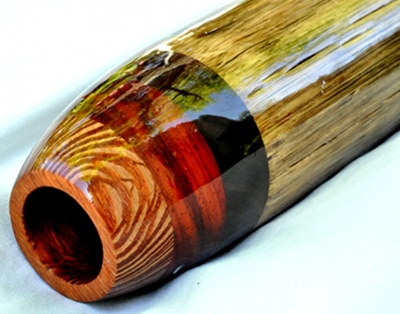 Key: D#
Length: 68″
Bell: 9″!
Mouth on Agave: 2.8″
Mouthpiece: Leopard, Padauk, Walnut: 1.25″
Wall Thickness: Thick to Medium
Backpressure: Strong
This one is a powerhouse. A 9″ bell is pretty hard to come by and still be able to have a didge form. This one has an enormous bore size as you can reach your whole arm up to your shoulder and flap your hand around in it. This bore creates some insane bass tones that completely shake my old airstream studio. If you like vocals this is like a megaphone projecting them far out in space. The drone has such a crisp tone and the bass doesn't over shadow it. Volume wise this is one of the loudest didges I have heard. Such responsiveness and the ability to play with incredible speed and power as well as it really feels comfortable in a slower ambient rhythms as well. Despite its large size it takes so little breath and plays with ease. In addition to all of its amazing sound  capabilities it is also just a beautiful stalk. Great dense wood, nice coloration, and lots of turquoise inlays throughout. This would be a great performance didge and will surely draw a crowd. You won't see many agaves out there like this!
Sold, Thanks again Gordon! in Oceanside, CA