I first heard the didgeridoo being played at the Fourth Avenue Street Fair in Tucson. I was in junior high school at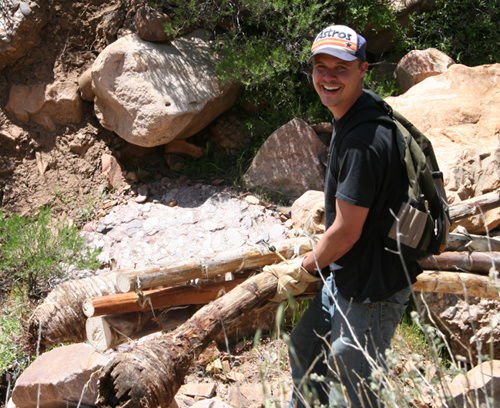 the time. The deep, rhythmic music had an instant impact on me. I remember telling my friends that modern music needed this powerful instrument.
Several years later, I purchased my first PVC didgeridoo which ended up breaking before I learned how to play. When I was 22, I purchased another didge — this time bamboo. I learned  the drone, basic sounds, and how to circular breathe with the instrument but it met the same fate as the PVC didge thanks to an incident with my huge Newfoundland dog. I then decided that maybe it would be better if I started making my own. I had no idea that it would become such an important part of my life.
Over the past fourteen years I have crafted close to 400 agave didgeridoos and played them at many shows and open mics, both solo as well as with a wide variety of other instruments. I continued to collect the agave stalks in the Arizona desert and then make the long drive back to Montana. My love for both states led to the name, Desert Mountain Didgeridoos.
The ultimate compliment has been that so many people buy one and then have returned to purchase two, three, four, and even 8 more didgeridoos. I take great pride in my craftsmanship and know that you will enjoy these didges as much as I love making them.  If you have any questions feel free to call or email me for more info.
Thanks,
— Kyle Bert