Click any image to enlarge.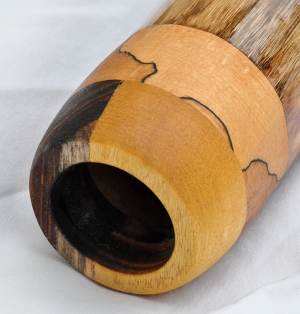 Key: D
Length: 62.5″
Mouth on Agave: 2.4″
Bell: 6″
Mouthpiece:  Spalted Maple, Satinwood, Zebrawood- 1.25″
Walls: Medium
Backpressure: Strong
Weight: 2.6lbs
This is a solid didge with dense medium walls and great wood grain. The overtones are really easy and clear and the drone has a nice amount of bass. Little breath required and great sound projection. A nice abstract mouthpiece finishes the didge off and I love the combination of woods.

Sold, Thanks again Gary! in Little Rock, AR