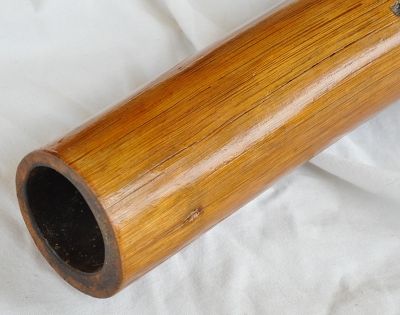 Key: E
Length: 57″
Mouthpiece: 1.25″
Bell: 6.75″
Wall thickness: Medium
Backpressure: Strong
Weight: 2lbs
Audio clip: Adobe Flash Player (version 9 or above) is required to play this audio clip. Download the latest version here. You also need to have JavaScript enabled in your browser.
This is a great agave stalk that didn't require a mouthpiece with its really quick taper. Very explosive didge which loves to create fast wobble like rhythms that sound almost electrified at times. With its long taper overtone transitons can be achieved with ease, I would recommend this to someone a bit more advanced as it takes a little more breath and would be a bit of a workout for the beginner. This is the first didge with a new all natural resin on the outside. I have been researching alternative resins for some time and decided on the "French Polish" method for the exterior. A technique that is much more labor intensive and time consuming. This technique has been used on string instruments  since the 18th century. You should google it and read about this amazing technique.