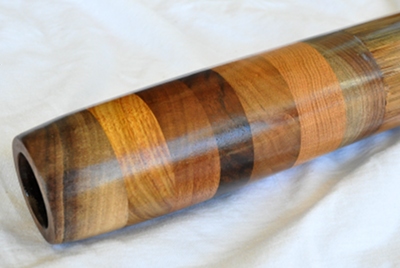 Key: D
Length: 66.5″
Mouth on Agave: 2″
Bell: 7.5″
Mouthpiece: Walnut, Canary, African Mahogany, Tzalm, Cherry, Honey Locust, and Walnut again- 1.2″  opening
Backpressure: Strong
Wall Thickness: Medium
Weight: 3lbs
I have to admit that there were a few expletives that came out of my mouth the first time I played this one.  What an incredible drone and responsiveness. This one has a tremendous shape and with the long neck and huge bell you will be sure to be heard and more. I found this in an area that I have found some of my favorite stalks including #29. Really nice dense wood that  just resonates like crazy. It is funny after all these years of making didges when one really stands out as one of your favorites. Another one with the new all natural French Polish. This may not stay on here long as I may just have to keep it if I have more time to play it.

Sold, Thanks again Todd! in Ooltewah,TN