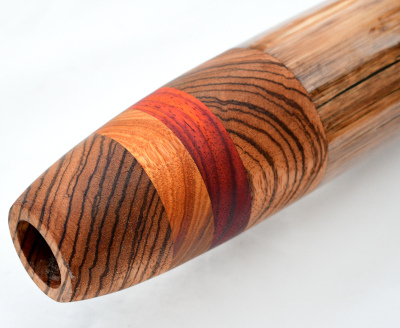 Key: A#
Length: 77″
Bell: 9.25″
Mouthpiece: Zebra, Canary, Padauk
Back pressure: Medium
Skill level: Advanced
Weight: 12.8 lbs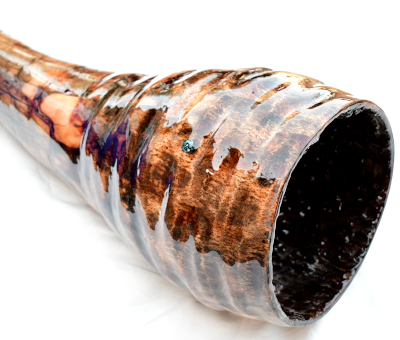 This is biggest didge I have made that is not a fusion. I found this and was blown away not only by its sheer size but by its weight and how dense its wood is. This has to have been in the desert for 4 plus years after it bloomed and with all the years of curing it created some amazing pigments and also extremely varied texture on the inside with the amazing amount of bug activity that almost created petrified like wood. Most agaves are fairly light but this one weighs in at a whopping 13 lbs! The measurements of the bell don't do it justice as it seems much much larger. The big bore creates incredible bass tones and harmonics with its thicker walls and huge bell. I love the overtones and sound almost like a conga when you figure them out. They are a little tricky at first but once you find the sweet spot so fun to create drum like faster rhythms. This is for the most advanced players as it will have a different learning curve and requires a great understanding of pressure and circular breathing. It is quite a workout as well and so worth it as it there is so much waiting to be discovered in this one of a kind monster didge!