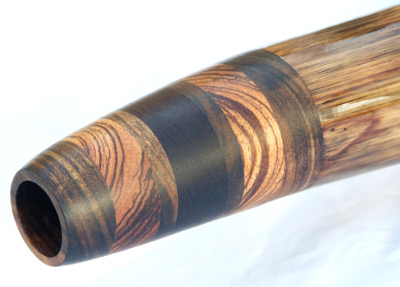 Key: G
Length: 47″
Bell: 4.5″
Mouthpiece: Shedua, Zebra, Wenge
Back pressure: Medium
Wall thickness: Very thick
Skill level: Advanced
The day I collected this stalk I saw the first rattlesnake I have seen in Arizona. Funny after all the years living here and collecting agaves that the only rattler I had seen was in Montana. This is a really thick stalk and I was unable to pull the leaves from the bell which this is the only time that has happened as well. I made a traveler didge from the top of the stalk last year and thought I would be able to get to the bell this time but to no avail.  Thus I needed to make it as smaller didge with a long mouthpiece as I loved the dense wood, shape, and flare. As I finished this stubborn thick old soul I realized it reminded me of the ratter I saw that day with its shape and layered mouthpiece resembling a rattle. It plays with bite as well and this is for the advanced player looking to add some variations in sounds and styles of play. It takes a lot of breath and control but is so fun to play and a bit of a workout as well. If you have most notes and haven't explored one in G yet this would be a great new addition!