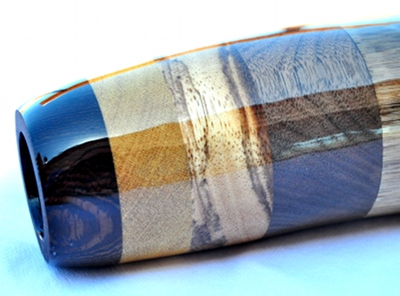 Key: D#
Length: 61″
Bell: 7.5″
Mouthpiece: Wenge, Satinwood, Beli, Walnut
Backpressure: Strong
Wall thickness: Thick to thin at bell
When I first played this one it felt electrified. With the really dense thick wood that tapers to a thinner bell it  acts almost as a built in amplifier.  It is always a treat to find these dense agaves that taper this way.  This one can play explosive and loud rhythms and seems to want to race right out of the gate. Its is sprinter that also needs to rest and play some laid back soundscapes too but then wants to race pretty quickly there after. Wobblers out there will love this one. The wood has so much variation and the mouthpiece adds a nice touch to this beautiful piece.  A really fascinating didge that I haven't explored enough and whoever it goes to will find some amazing capabilities that I haven't touched on yet.