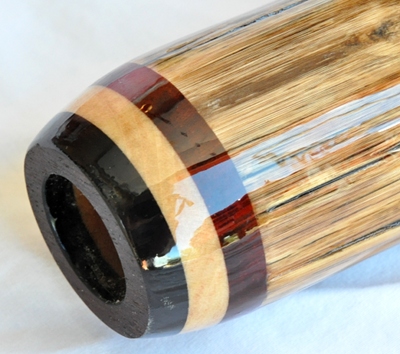 Key: F#
Length: 48.5″
Mouth on Agave: 2.2″
Bell: 4.5″
Mouthpiece: Walnut, Poplar, Padauk-1.2″
Backpressure: Strong
Wall Thickness: Thin
Weight: 2.6lbs
Audio clip: Adobe Flash Player (version 9 or above) is required to play this audio clip. Download the latest version here. You also need to have JavaScript enabled in your browser.
This is like the race car of didges. So quick and explosive and a blast to play. Will make you sound like an absolute beast with very little effort. It is so resonant with great volume and incredible vocals and nice overtones. F# is such a great note for those that have not played one. These higher pitch didges are becoming my favorites for the energy that they can express.